The past few weeks have seen numerous seasonal meetings taking place at Seion.
Carols by Candlelight 2016
The biggest event of the season was our Carols by Candlelight service on Sunday 18th December.  We sang carols, listened to various people reading the Bible's account of Jesus' birth, and watched a nativity 'photo story' that the children from Searchers had prepared for us (see previous post).  The service concluded as we considered what Christmas is really all about by looking at what the angel Gabriel said to Mary in Luke chapter 1 verses 26 to 38.
Gabriel explained…  * Who the baby is     * How the baby was to come into the world     * What the baby had come to do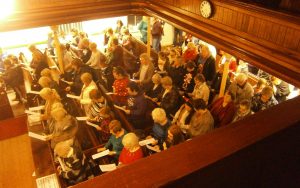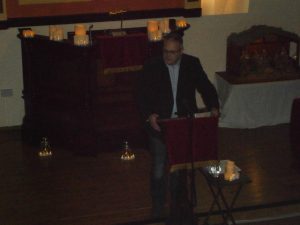 Over 40 people joined us for our annual Christmas meal earlier in December.
Christmas Wrapped Up
We had the pleasure of running activities for over 60 children from two local schools (Penrhys Primary and Maerdy Primary) on Thursday 8th December.  The story of the first Christmas was taught and reinforced with a quiz.  The children made Christmas cards and mince pies and worked on a literacy exercise based on Christmas.
Everyone at Seion wishes you a happy Christmas and a blessed New Year!