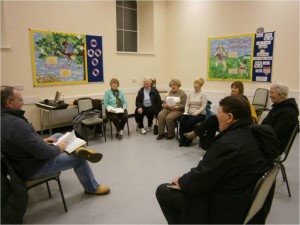 Covid-19 Update – As a result of the Covid-19 pandemic there are changes to Seion's programme.  We are currently holding a prayer meeting on Monday evenings from 7pm through telephone conferencing (contact Seion's Pastor for details of how to join us).  On Wednesday evenings from 7pm we meet in the main chapel auditorium for a short Bible Study (for which the Covid-19 safety measures also apply).
Each Monday night we meet from 7pm to 8:15pm to study the Bible and pray.  After the Bible study we spend time praying about what we've learnt, praising God and thanking him for what he has done, and praying for the activities of the church, and for people in the church or known to the church.
After the meeting we have tea/coffee, and a time of informal fellowship.
For those for whom coming out in the evening is difficult, we also meet at 9:45am on Thursdays for a repeat of the Bible Study and a time of prayer.  This meeting usually finishes around 11:00am.